Join The Club & Get
The Perks!
Hey there! we are Dustin, Lauren & Paxton Blanchard founders of Rampage Coffee. We are very passionate, young entrepreneurs who strive for top quality coffee and customer service.
6 Reasons Why You Should Join Our Coffee Club
1. Freshly roasted specialty coffee delivered to your door.
2. 10% Off subscription orders - less than 30 cents per cup.
3. Easily edit your subscription from any device.
4. 15% Off merchandise and accessories
5. Earn 1.5x loyalty points
6. Access to our private Facebook group


Already a Coffee Club Member?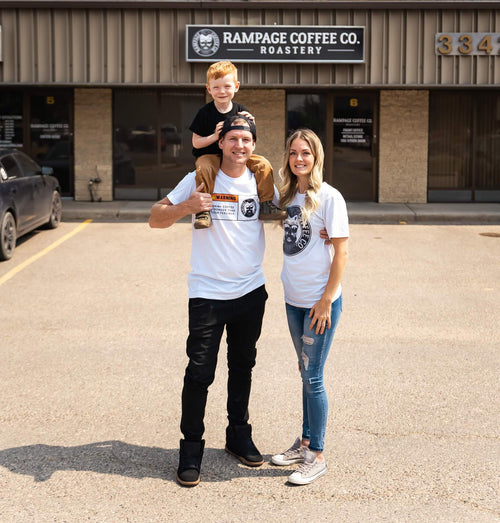 What You Can Expect
Your fresh roasted coffee will be delivered at an interval of your choosing - every 7, 14, 30 or 60 days. Mix and match your blends to create the perfect subscription, and don't worry you can swap coffees, change order delivery dates, add products, pause or cancel at any time!
Extra Perks When You Subscribe!
When you join our coffee club you will get extra perks like special discounted rates on coffee accessories and merch. Plus you will get to join our exclusive coffee club FB community where we will announce new products days in advance before they launch, you will get extra support with your subscription, you will also get a more intimate insider view of how the Rampage magic happens with exclusive group chats, plus there will be extra random fun giveaways exclusively for coffee club members.
Build Your Own Subscription & Save 10%
How Do You Brew?
Build Your Own Subscription + Save 10%
Do You Grind Your Own Beans?
Build Your Own Subscription + Save 10%
Are you a coffeeaholic?
Build Your Own Subscription + Save 10%
Which Roast Profile is For You?